Kesinambungan dari entry itu, sabtu lepas kami (saya dan adik-adik) p tuka 4 tiket wayang tu dan menonton dengan gembiranya..lalala..
Balance tiket-tiket tu saya jual dengan half prize..opsss...harap cosmo tak marah dan banned nama saya dari penerima hadiah seterusnya..hehehe..okla tu kan..win-win situation..
Memula pi alamanda untuk tengok Narnia ni..dah sampai ke counter nak tukar tiket..tetibe mamat ni kate tiket saya tu hanya boleh guna after 2 weeks Narnia ditayangkan~ WHAT?? padahal saya dah call cosmo untuk make sure tiket itu boleh digunakan pada bile-bile masa dan dimana-mana cinema as long as movie tu Narnia..tak puas hati betul...frust dengan GSC Alamanda yang ntah ape-ape..kami p lunch kat McD dan pergi try ke The Mines pulak..hahaha..akhirnya.The Mines accepts the tickets..sebab memang terang-terang takde restriction tertulis kat tiket tu!
Lupekan kisah sengal di Alamanda..jom tengok review saya pasal The Chronicles of Narnia - The Voyage of The Dawn Treader..ok sebenarnye saya tak tengok pon lagi Narnia 1 & 2 jadi saya quite blur dan layankan je cite ni..hehe..pasni nak wat marathon tengok Narnia 1 & 2..untuk bagi saya buat aksi..'ooo..itu rupenye'..'ooo patutla..'..'ooo baru paham'... HAHAHA..
Bermula dengan Kisah Edmund, Lucy Pevensie dan cousin diorang Eustace Scrubb yang agak err..menjengkelkan..berlagak bagus kembali ke alam Narnia. Diorang join Caspian's voyage dalam kapal Dawn Treader untuk mencari 7 bangsawan yang hilang. Banyak halangan dan dugaan yang terpaksa diorang hadapi sepanjang perjalanan ke Negara Aslan di hujung dunia.
Lucy & Edmund duk tenung gambar kapal Dawn Treader
Diorang lemas dalam bilik
Lucy kat dalam kapal Dawn Treader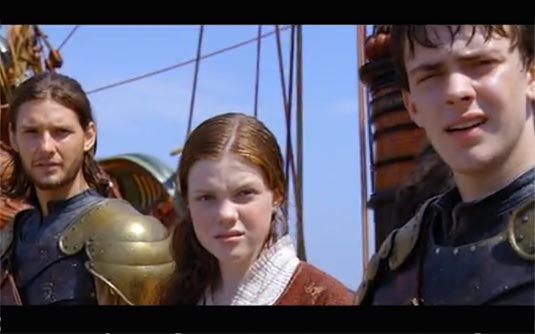 Caspian, Lucy & Edmund
Lucy baca mentera buat salji turun kt mana-mana
Memula musuh pastu bff tu~ Eustace dan ape name tikos ni ye?
Si bintang biru
Gambar-gambar kat tepi ni pulak antara cabaran diorang masa nak pi hujung dunia tu. Sebenarnya kitalah musuh utama diri sendiri. Kita perlu atasi kelemahan diri sendiri sebelum kelemahan itu memakan diri kita. Jangan sampai musuh kita dapat tahu dan gunakan kelemahan itu untuk memerangkap dan menjatuhkan kita..
Sepatutnya kene yakin dengan diri sendiri dan tak banding-bandingkan diri sendiri dengan orang lain sebab setiap orang itu unik. Mana boleh nak banding-bandingkan. Eii...pantang betul tau.. Kadang-kadang ada orang expect kita jadi sebijik macam idola dia..ape kate die sendiri je yang jadi sejibik macam idola dia tu..kan lagi bagus...ekeke..sibuk je nak ubah orang lain..
Alamak..hensemla caspian ni~ hehehe
Ni la ending cite ni~
**

GAMBAR2 NI SUME AMEK DARI GOOGLE IMAGE**